Thank you Hawaii Book Blog for the write up and support!
I was featured on their website...


Check out
http://www.hawaiibookblog.com/
to see other books available from local authors in the Hawaiian Islands.
Danny and the Dolphin is now published!
I got the physical proof in the mail on my birthday a couple of weeks ago! It's the BEST birthday gift I could have ever received. After over a year of designing the interior and working on publishing it's complete...we're changing the size a little and making it a hard cover rather than a soft, but it's ready for print!
It's exciting to know that it will be available for you all to read soon...in just a couple more weeks! (I've been saying that for a long time now but this time it REALLY is just a couple more weeks...sounds like false labor)
My friend Katya Williamson (author of bringing the Soul Back Home)
http://www.amazon.com/Bringing-Soul-Back-Home-Consciousness/dp/1846942020
told me that creating a book is like being pregnant and the publishing is like the birth of a baby...it takes months to create and then it's here forever. It really has been a lot more work than I ever imagined and I now have a new appreciation for the arts... film, paintings, music, and literature...it's all very time consuming and such a labor of love. Much like parenting!
I 'm SO appreciative for everyone that helped with this project: Editors, Katya Williamson and Angela Barton
http://myyearwithoutspending.blogspot.com/
Bluewater Graphics, Captain Budd, and Rebbecca Byder for their photo shop and computer skills, Kimberly Martin at Self Pub.ne
t
http://www.self-pub.net/
Mill city Press
http://www.millcitypress.net/
my husband Ken for his loving support and for keeping us afloat, and especially to Dan Mackin
http://www.danmackin.com
for his amazing art work.
Thank you SO much Dan! Your beautiful art has made my story come to life. We've created a really beautiful book together that I am so happy with and VERY proud of!
While waiting for Danny And The Dolphin to arrive, I've started working on my next project. If anyone out there would like to be a part of my next book then please send your Law Of Attraction stories and testimonials to me at my email: writtenbykatesommers@gmail.com
Thanks so much! ~Aloha
This is what Hawaii Book Blog posted:
Do you live by the Law of Attraction?
posted by A.Alba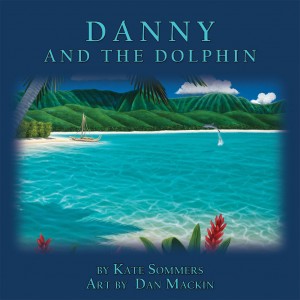 If the answer to this question is yes, then you could be the person that Kate Sommers is looking for. Kate is a writer living in Hawaii whose first published book, Danny and the Dolphin will be released in a few weeks. The book is a short story about creating your life the way you love. She is looking for anyone who has a testimonial or story of success with deliberate creating and the Law of Attraction that she can incorporate into her new book. For further details on this opportunity, I invite you to visit her blog:
You can also visit her official website here.